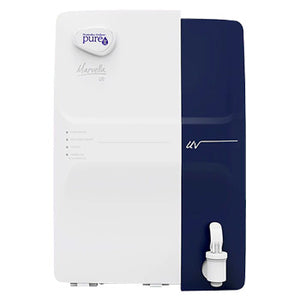 About the Device
Pureit presents a modern-day water purifier that fits perfectly in your kitchen with its sleek and compact design, giving you easy access to pure drinking water.
Compact, Sleek and Covered Design
Optimizes space and looks good in a modern kitchen.
Dual Option
Dual option for wall-mounting or table-top.
Features:
Advance Alert System - alerts you 15 days before the Germkill Kit gets over
Virus Removal - Removes 1 crore virus in 1 litre of water
Auto Shut-off - Auto Shut-off ensures water purity
Auto Start-Stop - Fills and refills the purifier automatically so you don't have to do it manually
Break-Resistance Top - Tested up to 50,000 times to ensure that it lasts long
Tank Full Indicator - Indicated when the storage tank is full
4-Liter Water Storage Capacity
Technical Specifications:
Weight: 4 Kgs
Purified Water Flow Rate (average): 350ml-750ml/min
Purifying Technology: Carbon Sediment Filter and Activated Carbon Filter, Sediment Plus Filter, UV Chamber
Pressure Rating: 5-30 PSI
Material of Construction: Food safe, non toxic, engineering plastics