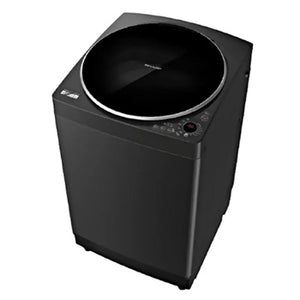 Product Features:
No Holes Tub Fully Automatic
Low Water Pressure Valve
Tempered Glass LID with Damper
Mega Mouth – wider opening for easy loading and unloading of large size clothing and linen.
No Holes Tub – stainless tub that has a capable of controlling impurities from entering the inner tub.
Low Water Pressure Valve – valve can operate for as low as 0.03 MPa or 4.35 PSI (water pressure).
Tempered Glass LID with Damper – more durable and class looking.
Special Functions:
Soak – 5 mins to 24hr available soaking time that helps treats heavily spoiled and hard to remove stains on clothes.
Fragrance – maximize the effect of the fabric softener
Ecoshower Rinse – sprays water while spinning the tub, which reduces the amount of water used for rinsing.
Anti-bacterial Pulsator – keeps the underside of the pulsator clean and sanitary
Auto Tub Clean – automatically washed-out the stains and detergent even on the reverse side of the pulsator to keep it clean and mold free.
Auto Restart – operation restarts following a power interruptions.
Child Lock – a safety features that is designed to keep the button safe by disabling all the button while in operation.
Specifications:
Weight: 37 kg
Dimensions: 67.5 × 62 × 101.1 cm
Wash Input: 630 W
Spin Dryer Input: 420 W
Power Consumption: 128 WH
Standby Power (W): 0.6 W
RPM: 730
Water Consumption: 93 (L/cycle)
Filter: Metal Mesh Box Filter
Control Panel: Digital LED
LID Damper
Child Proof
Steel Cabinet
LID Material: Tempered Glass with Damper
Program Course: 8 Courses (Normal, Jeans, ECO, Speedy, Baby Care, Delicate, Blanket, Tub Clean)
Power Source: 230V-60Hz
1 Year Warranty on Parts & Service