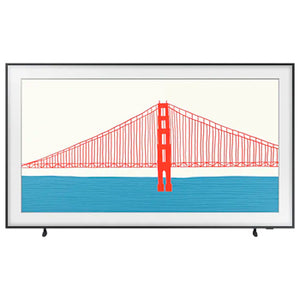 Product Highlights:
New Slim Frame Design with Interchangeable Bezels
Art Mode for Perfect Color Tone in Any Viewing Environment
Real 4K Resolution with QLED Technology
AI Upscaling: Enjoy Any Video Content in 4K Picture Quality

Modern Frame Design

Customizable Frame Bezel

Art Mode

QLED Technology
Everything a picture frame does for you, The Frame does more beautifully.
Modern Frame Design
The Frame's minimalist-inspired design blends flawlessly with your interior. It's slimmer, more toned and a monochrome finish on the back creates a sophisticated look from every angle. Connect the One Invisible Connection cable and discover what makes The Frame a modern masterpiece—on or off.
More colors, More styles, More you.
Customizable Bezel
Enjoy two bezel style options. Modern bezel style comes in White, Teak and Brown colors and the new Bevel bezel style comes in White and Brick Red. Simple-to-use magnetic application makes it easy to switch between colors and styles and find the right look for the mood you're in.
* Customizable bezels sold separately. Available colors and style may vary by region or TV size.* Customizable Bezel compatibility is based on bezel type. Modern type is compatible with the 43"~ 75" range of The Frame TVs, while Beveled type is compatible with 65" and 55" models.
In the box is an easy-to-install wall mount that keeps The Frame extra tight to the wall.
Slim Fit Wall-Mount
Like a real frame, the Slim Fit Wall-Mount brings The Frame flush against the wall. Once mounted, its swivel bracket allows you to rotate the angle of your TV to get it just right. You even have the option to hang The Frame vertically in portrait mode.
* Measured from rear end of the TV, the gap may differ based on the installation and wall type.* A small gap between the wall and TV may occur if wall is not 100% flat or is constructed off-angle to the floor or if installed incorrectly.* The actual angle when tilting may vary by product size.* Portrait mode is supported for 43' and 32' models. * 43' model can only be installed vertically using Slim Fit Wall-Mount.

Turn The Frame off and let your favorite artwork set the mood.
Art Mode
Turn the Frame off and watch it turn an amazing TV into to a private art gallery with the press of a button. Art Mode gives you the ability to showcase your personal art collection with an incredible array of curated creations—customized and controlled the way you like.
A world-class selection at yourfingertips
Art Store
Curate your own personal art collection with a growing library of over 1,400 pieces of artwork from world renowned institutions. From beloved classics to modern marvels to stunning photography, Art Store gives you unlimited access to a variety of content.
Senses your presence
Motion Sensor
The Frame automatically turns on to display your artwork when it senses you've entered the room. Leave the room, and it turns itself off to save energy.
A perfect frame for personal photos, too
My Collection
Artwork isn't the only thing you can showcase on your TV. Send your photos to The Frame via smartphone or USB flash drive and share a masterpiece of your own making.
Turn The Frame into a professional workstation
PC on TV
There's so many ways to stay productive from home with The Frame. It automatically recognizes your office PC, letting you use it right on your TV. Screen share directly from a nearby PC or laptop. Simply connect a Bluetooth mouse and keyboard and see how easy it is to work from home.
More ways to connect instantly
Mobile Mirroring
Want to continue your video call on a bigger screen? With SmartThings on your Android device or Apple AirPlay on iPhone, your smartphone can be mirrored on The Frame for a bigger, better video chatting experience.
A customizable multi-screen experience
Multi View
The Frame lets you watch 2 screens at the same time, so you can workout while streaming your favorite show or movie. Connect your smartphone and make sure you're doing the exercises accurately. Customize video size and audio options and take full control of what and how you watch.
Connect your phone to the big screen with just a tap
Tap View
Don't feel like listening to music through headphones or phone speaker? Give The Frame a light tap with your smartphone and watch Music Wall visualizations add ambience to your room while your music is played through the TV speakers for an enhanced visual listening experience.
First-of-its-kind innovative Eco Remote does away with batteries
Solar Cell Remote
The Frame automatically detects your external devices so they're ready to use the moment you connect them. Use One Remote for easy control of all your connected devices and don't worry about changing batteries—solar cell technology allows it to be charged by your indoor lights.