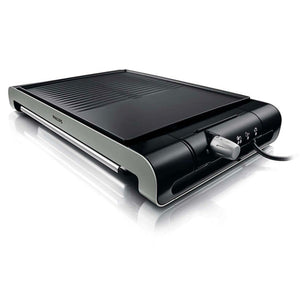 Discover fuller flavours
This powerful Philips table grill has a high temperature plate to seal in the juicy flavour. It€™s fast-heating and has an extra thick plate that stays hot no matter what, while the ribbed-and-smooth surface cooks up many delicious delights.
Constant high temperature to seal in the flavour
2300 W
Ribbed/Smooth plate
High temperature grill plate
300 x 370 mm
High temperature grill plate seals in all the flavour
The high temperature of the Philips electric grill plate seals in all the juices and flavour of the food. That€™s because the moment the food comes into contact with the surface of the grill, it begins to sizzle and brown, forming a tasty crust that keeps all the goodness and flavour inside, where it belongs.
Ribbed-and-smooth top allows stir-frying, grilling and more
The versatile grill plate gives you the choice of cooking with either a ribbed or smooth grilling surface, so you can enjoy your food the way you like. The smooth area is suitable for stir-frying and grilling small pieces of food. The ribbed surface creates that irresistible flame-grilled effect.
Adjustable thermostat ensures perfect results for every food

Adjustable thermostat ensures the perfect result.
Spatula

Spatula for flipping, stirring and removing food.
Dishwasher-safe parts
Dishwasher-safe parts make cleaning easy.
Grease drainage

Excess grease is drained to removable tray.
High power for heating up fast and keeping a constant heat
The high power of the appliance enables the grill plate to heat up quickly, reaching operating temperature very fast and saving you precious time. It also means that the grill surface keeps its heat when food is placed onto it because the high power ensures a fast recovery to the correct temperature.
Non-stick grilling surface

Non-stick surface prevents food particles from sticking.
General Specifications:
Integrated on/off switch: Yes
Temperature light: Yes
Cool-touch handgrips: Yes
Non-slip feet: Yes
Cord storage: Yes
Grease tray storage: Yes
Technical Specifications:
Cord length: 0.8 m
Power: 2000-2300 W
Voltage: 220-240 V
Frequency: 50/60 Hz
Weight & Dimensions:
Product dimensions (W x H x D): 515.9 x 73 x 312 mm
Weight appliance: 4.0 kg
Grill plate dimensions: 300 x 370 mm