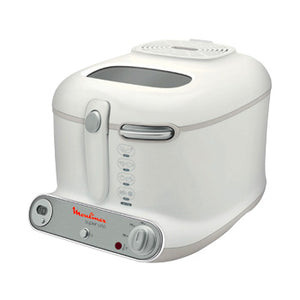 MOULINEX SUPER UNO
The best Moulinex deep-fryer
With only 2.2L of oil in the deep fryer, you can prepare up to 1.5 Kg of nuggets or 1.4 Kg of delicious French fries
Highly efficient anti-odor cartridge. Super Uno is equipped with a carbon filter inserted into an anti-odor cartridge that is dishwasher safe and can be used up to 80 times.
Removable bowl with non-stick coating. Super Uno is super easy to clean. The frying basket, the lid and the filter are dishwasher safe.
Digital Timer. Master your cooking by setting the time of cooking directly on the front control panel.
Cool touch. Super Uno is safe to use. It has cool walls and an on/off switch.
Super Uno is a deep-fryer that will allow you to prepare French fries for the whole family (6 people).
It has all you need when it comes to frying:
Super capacity: up to 1.5 Kg of food
Super easy to use fryer: external basket control, cooking lid with window and digital timer
Super easy to clean: fully dismountable, removable bowl with non-stick coating
Super safe electric fryer: cool walls and on/off switch