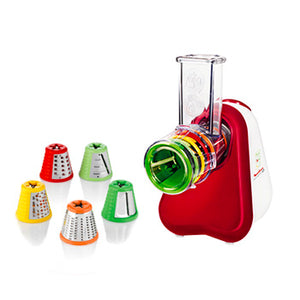 Fresh Express +: the extra-versatile shredder
The Fresh Express + is a versatile machine thanks to its 5 metal cones that allow you to slice, grate or mince. It's the easy way to prepare your dishes, all served directly onto the plate!
The Fresh Express + is very user-friendly thanks to its interchangeable cones that even stack together for easy and compact storage.
5 Cones for 5 Modes: Thin shred, thick shred, thin slice, grate and crinkle cut
Direct Serve: Your chopped ingredients are served directly onto the plate
Integrated Storage: Cones are stored easily and directly on the device
Wide Feeding Tube: Allows you to put whole vegetables into the tube
Technical Specifications:
Power: 200W
Speed Settings: 1
Number of functions: 5
Feeding tube size (L x l): 5.7 x 5.7 cm