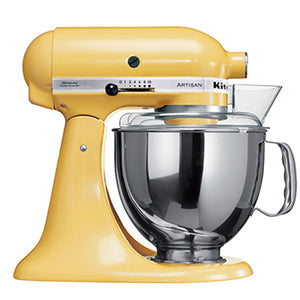 ARTISAN SERIES 4.8 L TILT-HEAD STAND MIXER
Choose from over 18 different colors of the KitchenAid Artisan Series Tilt-Head Stand Mixer for the one that perfectly matches your kitchen design or personality. Easily make your favorite cakes and multiple batches of cookie dough with the 4.8 L stainless steel mixing bowl with comfortable handle. With 10 speeds, the stand mixer will quickly become your kitchen's culinary center as you mix, knead and whip ingredients with ease. And for even more versatility, the power hub fits optional attachments from food grinders to pasta makers and more.
Included Accessories:
Everything you need for recipes from cookies to ciabatta bread
Coated flat beater
Coated dough hook
6-wire whip
1-piece pouring shield
4.8L Bowl
Features:
Smooth, rounded tilt-head design.

 

Elegant, easy cleaning and usage.
For Everything You Want To Make.

 

Turn your stand mixer into the culinary center of your kitchen. With over 10 different attachments, you can make everything from fresh pasta to burgers, veggie noodles, ice cream and more.
4.8 L Stainless Steel Bowl with Comfortable Handle.

 

To prepare small to large quantities of food. 4.8 L stainless steel bowl with comfortable handle offers enough capacity to mix dough for 9 dozen cookies, 4.5 loaves of bread or 3.17 kilograms of mashed potatoes in a single batch. The bowl is also dishwasher-safe for quick and easy cleanup.
59-Point Planetary Mixing Action

 

means 59 touchpoints per rotation around the bowl for thorough ingredient incorporation. The beater, dough hook or wire whip rotates around the bowl, giving incredible bowl coverage for comprehensive mixing.
Direct drive and original planetary action.

 

Reliable and long lasting for fast and thorough mixing.
Doughn't Worry, Be Happy.

 

The dough hook is perfect for kneading all kinds of dough. Use it for making pasta, pizza and bread.
10 Optimized Speeds.

 

Allows the user to select the right speed for the mixing job, from a slow stir to a very fast whip.
Whisk Away.

 

Grab the wire whisk when you need to incorporate air into your mixtures. The Wire Whisk K45WW is used for incorporating air into eggs, egg whites, whipping cream and dips (such as mayonnaise). Made out of stainless steel (wires) and aluminum (head). Not dishwasher-safe.
Flat out the best.

 

The flat beater tackles heavier mixtures and gives you the right consistency for everything from mashed potatoes to frostings.
Built to last.

 

Our stand mixers are built from the toughest materials and can take on any recipe you throw at (or in) them. What recipe will you challenge your stand mixer with? - Our stand mixers can withstand anything from sticky mixtures to compact doughs. So, don't be shy. Give your stand mixer a challenge.
TILT-HEAD DESIGN.

 

Allows clear access to the bowl and attached beater or accessory so you can easily add ingredients for a recipe.
SOFT START.

 

Helps to avoid ingredient splash and flour puff by starting at a lower speed.
MULTIPURPOSE ATTACHMENT HUB.

 

The Artisan Mini Stand Mixer is compatible with all hub-based Stand Mixer Attachments including everything from a spiralizer, pasta maker and food grinder to a food processor and juicer thus offering endless opportunities to take your stand mixer to the next level.
PREMIUM FINISH.

 

With chrome-plated knobs, convenient power cord location, elegant wrap-around trim band.
VERSATILE KITCHEN COMPANION.

 

For a range of sweet and savory recipes. From cupcakes, to guacamole, minced meat and more.
Specs:
Wattage: 300 W
Voltage: 220-240 V