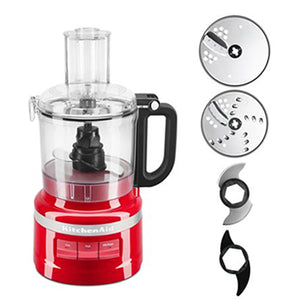 KITCHENAID 7-CUP FOOD PROCESSOR
This workhorse of a knife can be used for many cutting jobs, even the odd ones. It excels in all areas of peeling, slicing, chopping and carving.

Features:
Chop & Slice. Chunky or fine: however you want to slice and mash, there's a blade or disc to suit. This tool tackles everything.
Just what you knead. Mix and knead dough in minutes using the dough blade. Fill your kitchen with the smell of freshly baked bread. Mmm!
Simple Shredding. Cheese to grate or carrots to shred or chickpeas to puree. Do it in seconds without the risk of hurting your fingers.
Simple to use. No fiddling about. The twist-free lid and base lock in place, and the paddle controls make food prep a breeze.
Easy to clean. Smooth finishing and a sealed bowl make it easy to clean. Wipe the base and pop the parts in the dishwasher.
Convenient Storage. All parts fit nicely inside the bowl and the cord wraps neatly underneath.
Prep like a pro. Whether you just want to avoid all that chopping and need to puree, knead or mix, it can be done with ease - in no time at all. For the KitchenAid food processor, we've thought of everything, so you can rely on it again and again.
You're in control. Enjoy trying accessories for different recipes. Control the thickness with a choice of 2 slice discs and control the speed with low, high or pulse options.
Specifications:
Dimensions (W x H x D): 19.5 x 39 x 19.5 cm
Frequency: 

50 / 60 Hz

Material: 

Plastic

Revolutions per Minute: 

750-1500

Wattage: 

250

Motor: 

DC (Direct current)

Voltage: 

220 - 240 V